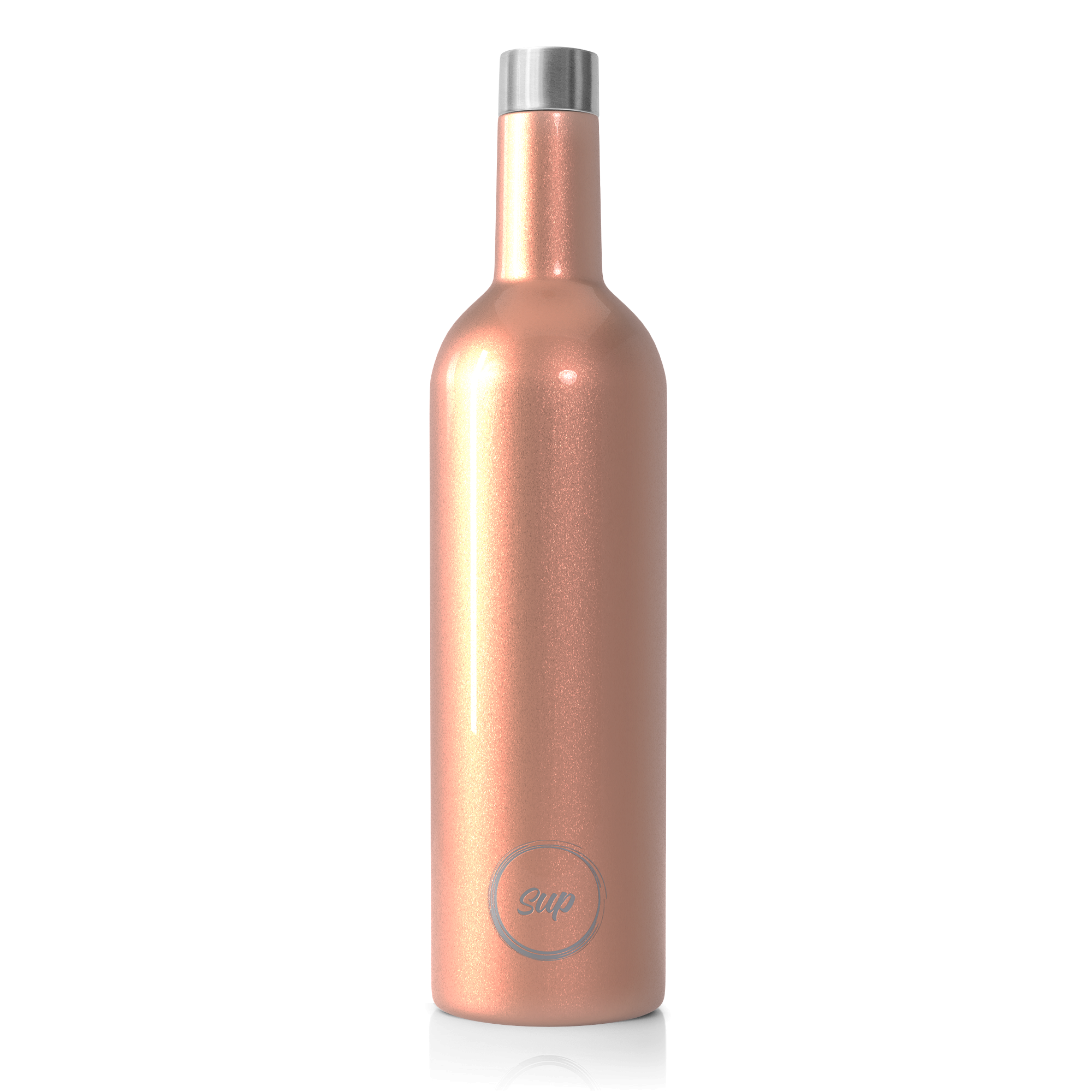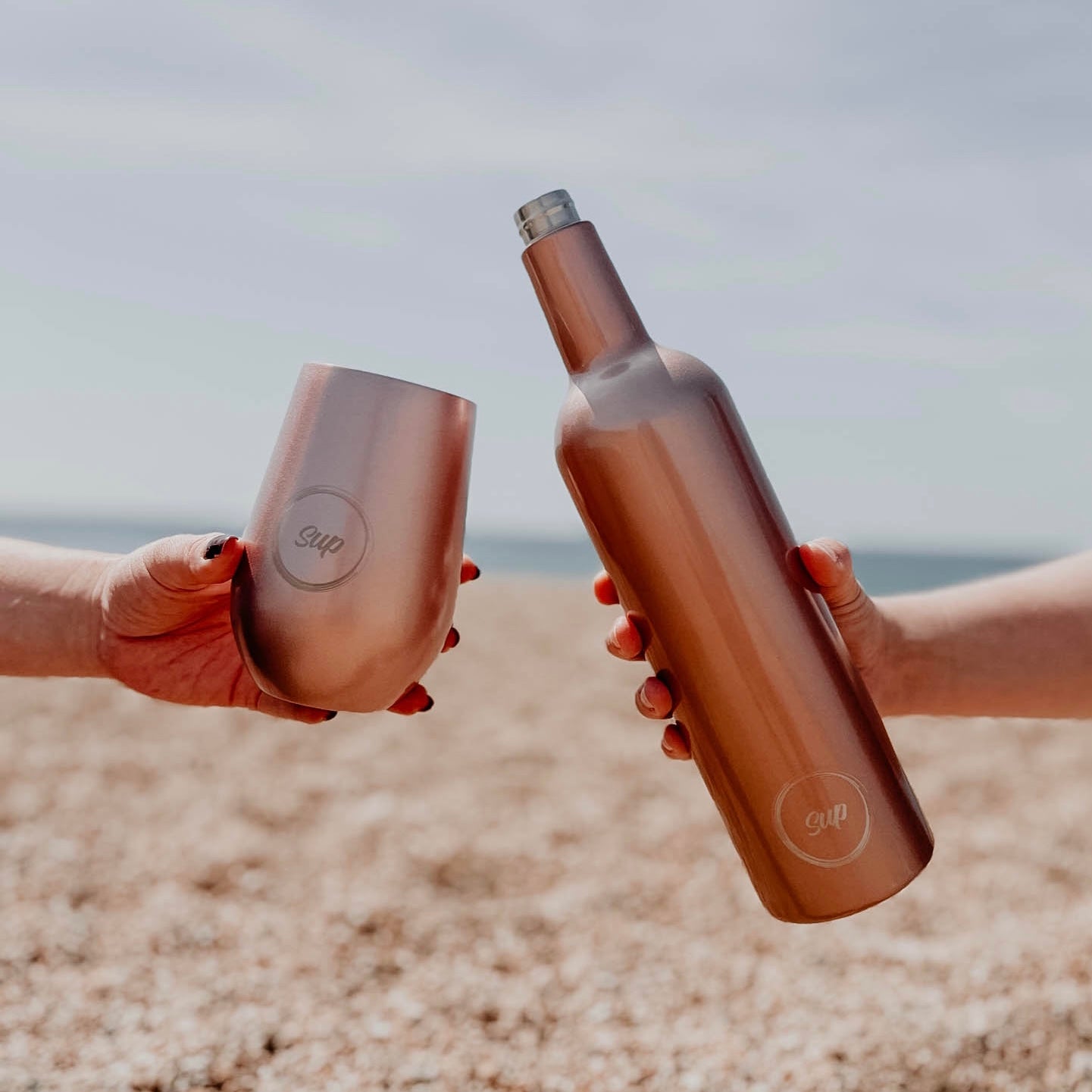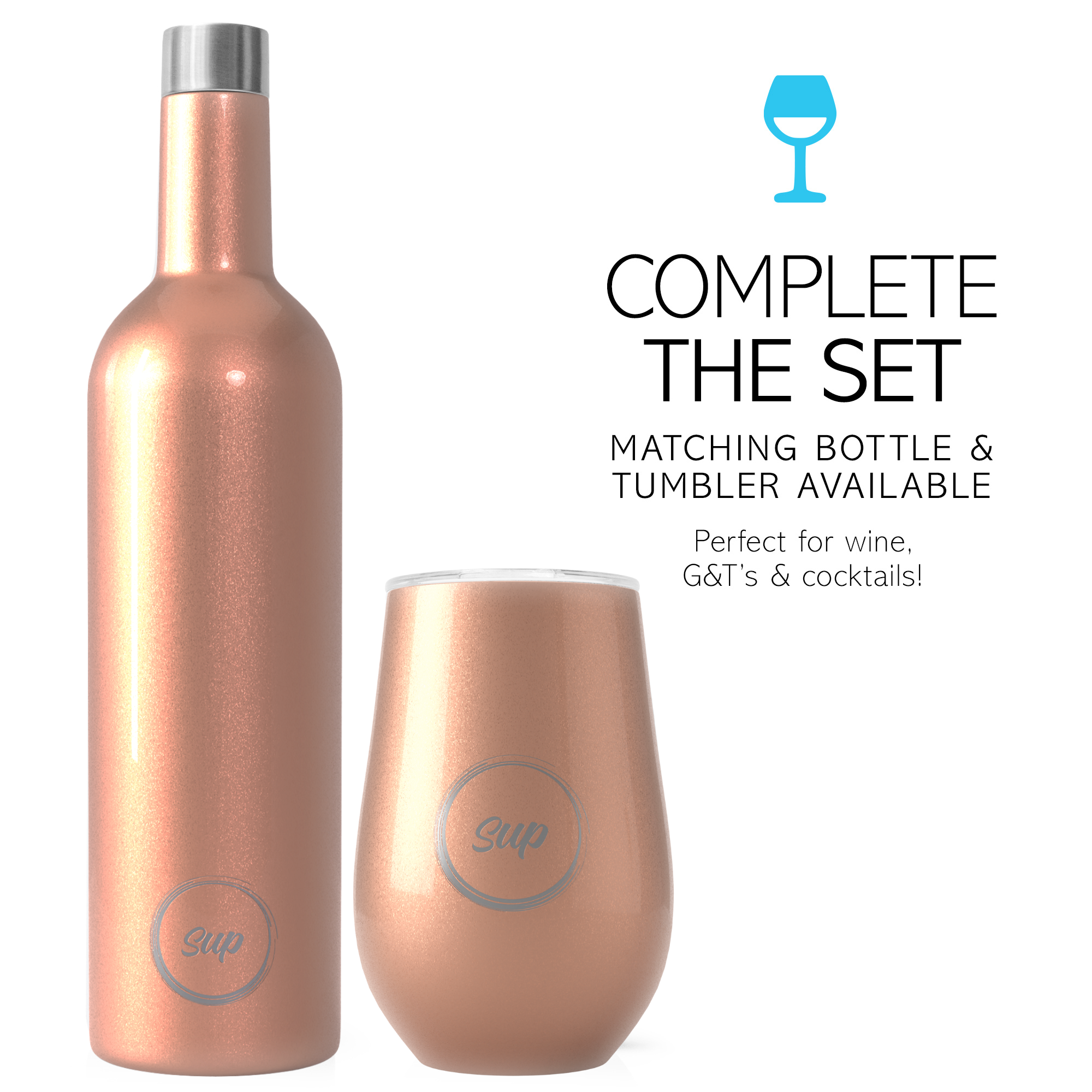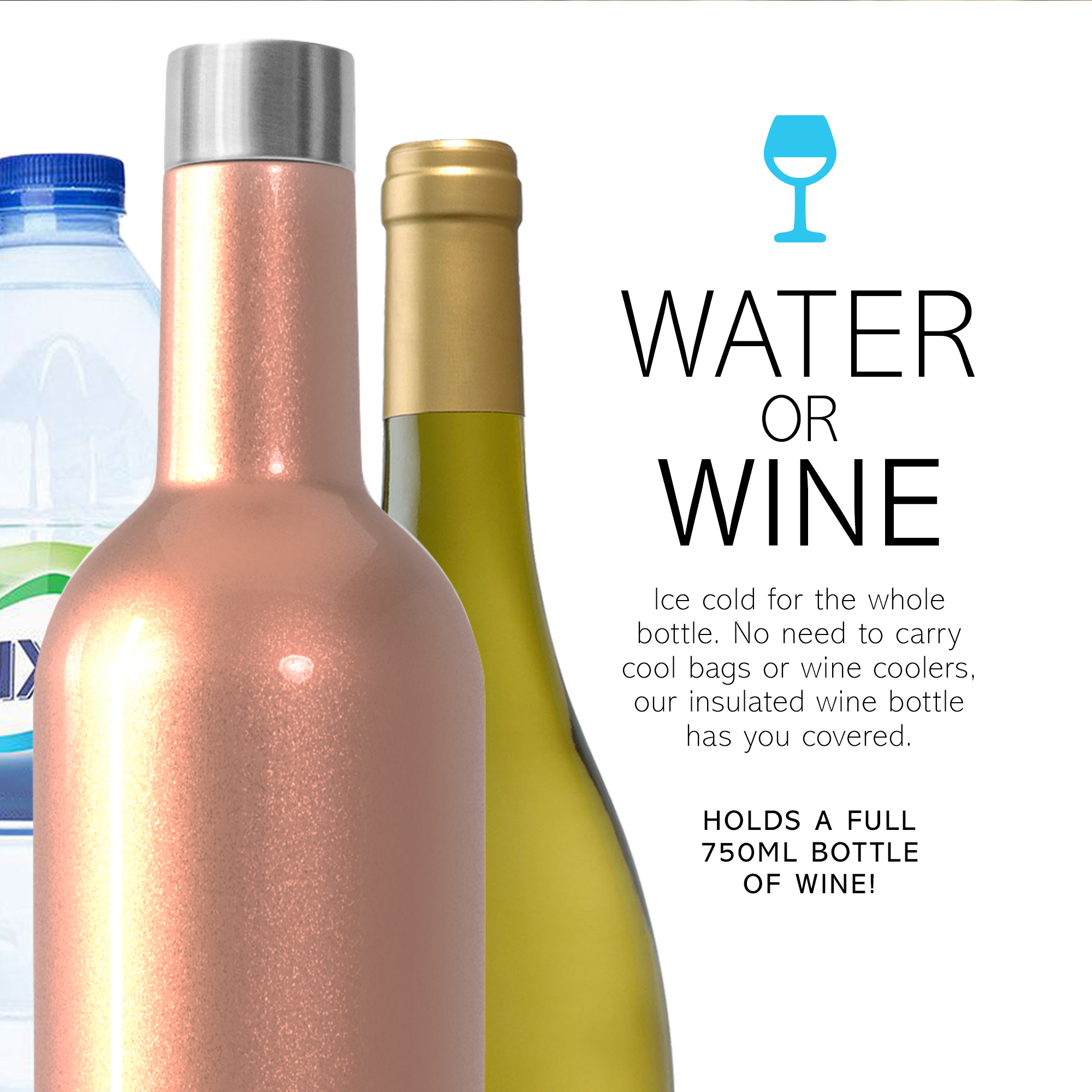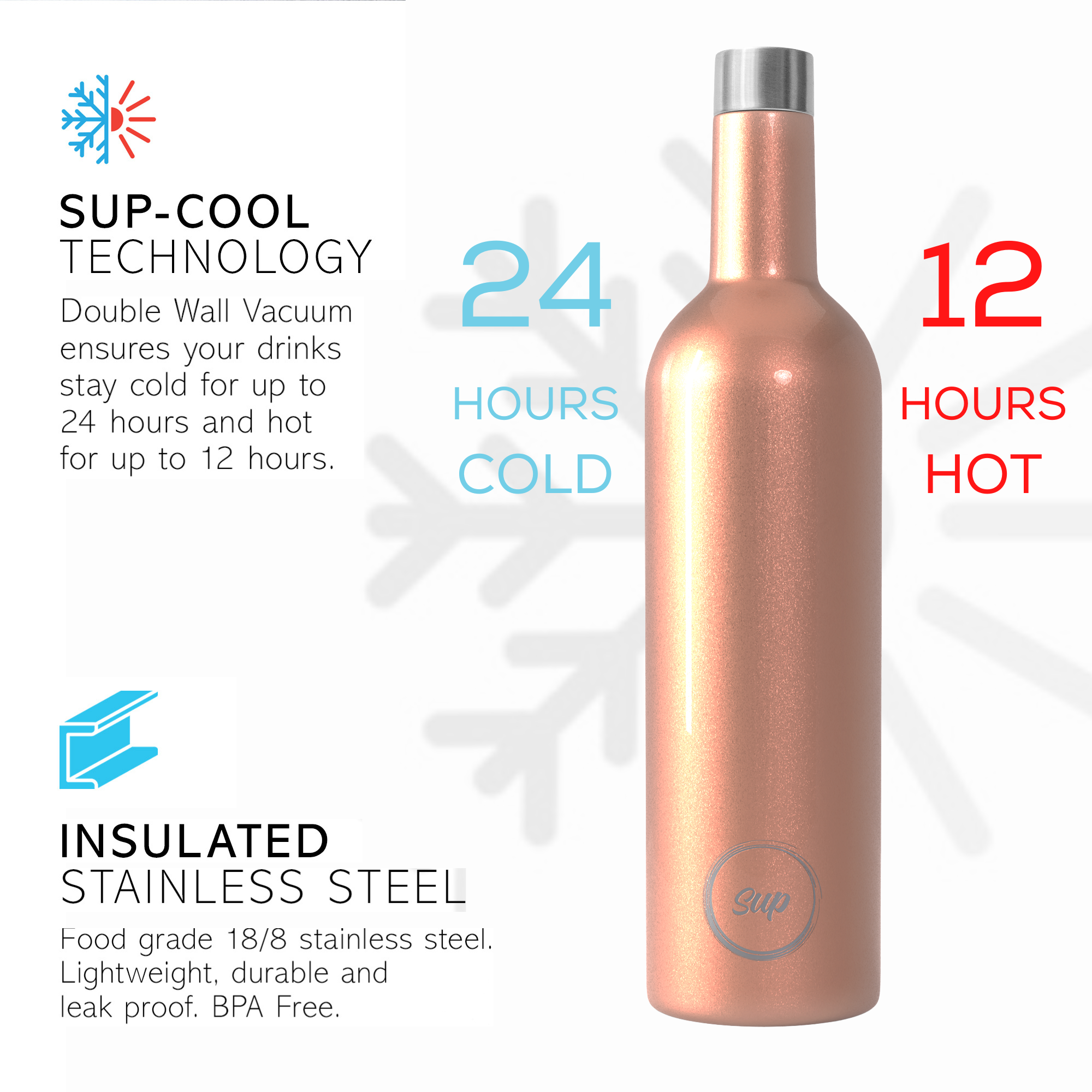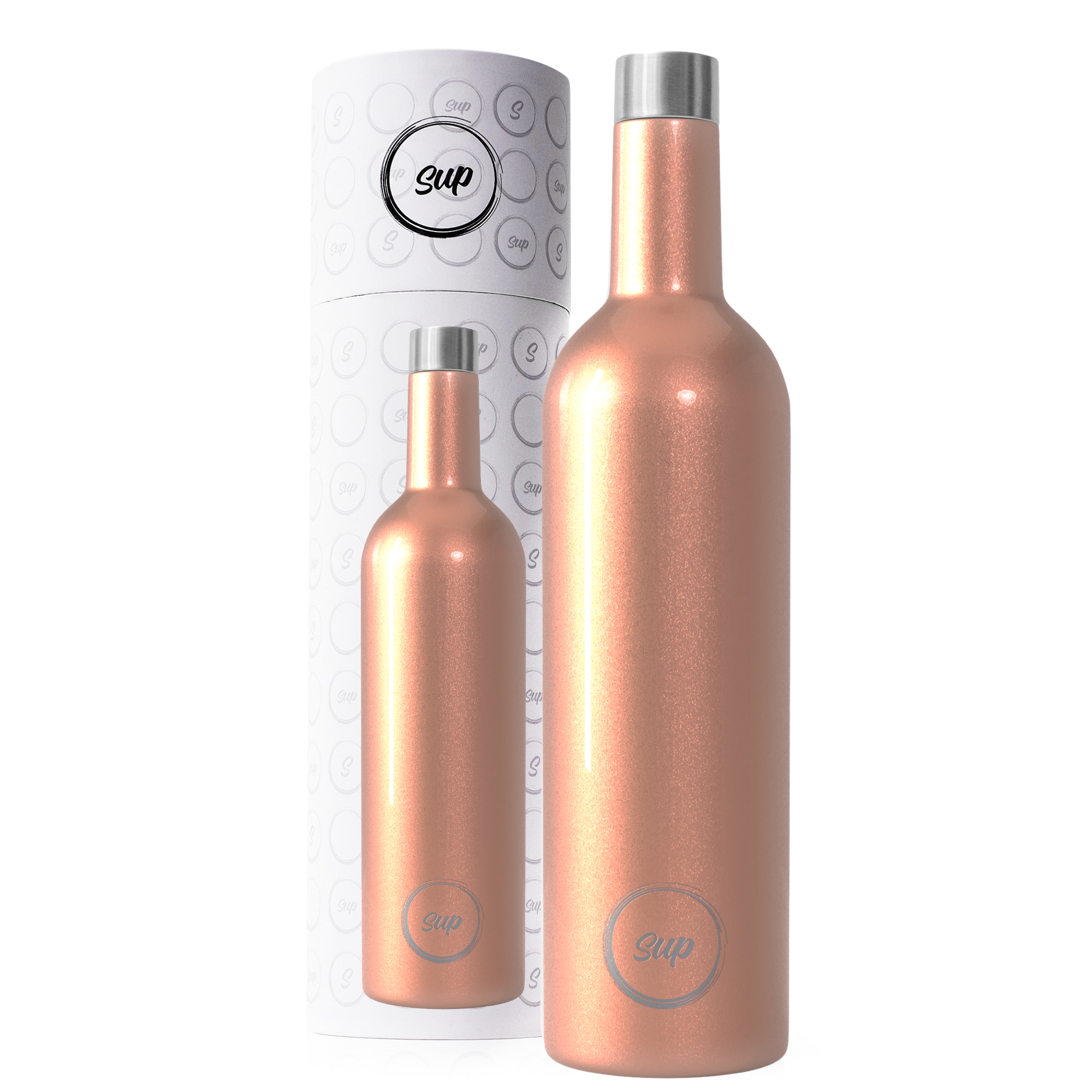 Insulated Wine Bottle Rose Gold
Free U.K Shipping Over £25
30 Day Satisfaction Promise
INSULATED WINE BOTTLE
Perfect for family picnics, a BBQ with friends or a day trip to the beach. A vacation, staycation or a day in the garden. Our insulated wine bottle is a must-have for any wine-lover.
Simply chill your favourite bottle of rosé, white or sparkling wine and pour it into our insulated wine bottle using the included funnel. Your wine will stay chilled for up to 24 hours, or hot for 12 hours during mulled wine season. It's leakproof and comes with a lifetime guarantee. 
Insulated Wine Bottle Rose Gold
Warranty
30 Day Satisfaction Guarantee
If you're not completely happy with your Sup product, we offer a 30 day no quibble guarantee.
Lifetime Warranty
In addition, all Sup products are covered by a lifetime guarantee which covers any inherent defects or rust.
Please contact our U.K based support team hello@supdrinkware.com for support.
FAQ
Can you put sparkling wine in a Sup insulated wine bottle?
Yes. Unlike other brands on the market, all Sup insulated wine bottles are prosecco and champagne tested.
Just pour slowly and carefully using the included silicone funnel, ensuring that you don't lose too much fizz whilst transferring.
What size cans & bottles does Capsule hold?
Capsule uses patented Flexi-Grip technology to hold almost any size can or bottle, including:
Traditional cans: 330ml (coke can), 440ml, 500ml and 568ml.
Slim cans: 250ml - 330ml, including energy drinks, hard seltzer and pre-mixed cocktails.
Bottles: 275ml - 355ml beer bottles, alcopops, cider and soft drinks.
How long will my drinks stay cold?
Our insulated wine bottles keep wine cold for up to 24 hours. Just chill your wine in the fridge as you usually would and transfer to your Sup bottle using the included silicone funnel.
Our insulated wine bottles will also keep mulled wine and other hot drinks warm for up to 12 hours.
Tumblers stay cold for up to 6 hours, and hot for up to 3.
Capsule will keep your beer or other drink of choice cold from the first drop to the last.
Do you offer any warranty?
Yes, all Sup products come with a 30-day satisfaction guarantee so you can return your purchase within 30-days for a quibble-free refund.
All Sup products also come with a lifetime guarantee to protect against inherent defects and rust.
If you need any support please reach out to our UK based support team hello@supdrinkware.com
How easy is it to pour my wine into the insulated wine bottle?
We've included a silicone funnel with every Sup insulated wine bottle to ensure that you won't spill a drop.
What are your products made from?
All Sup products are made from 304 food-grade stainless steel. Our products are either double or triple insulated, to ensure your drinks stay hot or cold until the last drop.
Will it hold a full bottle of wine?
Oh yes! Our insulated wine bottles have a 750ml capacity to hold a full bottle of wine. Our wine tumblers hold almost half a bottle of wine each, saving you multiple trips to the wine fridge.
Shipping
Free shipping over £20
All orders will be shipped via Royal Mail 48 unless otherwise stated. We expect orders to arrive within 2-3 working days from despatch.
Shipping upgrades
For just £1.99 you can upgrade your shipping service to Royal Mail 1st Class or Royal Mail 24. Any upgraded orders will arrive within 1-2 days.
Get in touch
If you need any help or support, please contact our friendly, U.K. based customer service team hello@supdrinkware.com
About us
What's Sup?
We're here to bring you a better drinking experience.
You wouldn't drink a cold cup of tea, so why drink warm rosé or a warm beer? There's actual science behind this too; if your favourite drink is served at the correct temperature, then it tastes better.
Sup's range of insulated wine bottles, tumblers and beer can & bottle coolers keep your drinks at the right temperature for longer.
British Design
We're a U.K based business founded in the seaside town of Bournemouth, aiming to give everyone a better drinking experience.
Whether you're off on a picnic, beach day, bbq or just chilling at home or in the garden, our innovative product range will help you enjoy your favourite drink at the right temperature.
U.K based customer service
Our aim is to give consumers a better drinking experience. This extends to every part of your Sup journey from initial purchase, to using your product day-to-day to after care and customer service.
We'll do anything possible to ensure you have the best possible experience with us. If you have any questions or need support on any topic, please contact our friendly team hello@supdrinkware.com
The perfect gift
Gift Sets
Our Gift Sets are every wine lovers dream. Each set includes 1 x insulated wine bottle, 2 x wine tumblers and a silicone funnel.
Shop Now